Business Fairs
We have been running Business Fairs for nearly twenty years. Probably our best known event is the Liverpool Business Fair which was first held at Liverpool Town Hall in 2002.
Whilst our Business Fairs are our largest events – in terms of numbers and features – we try to make sure that they are suitable for everyone from sole traders and would be entrepreneurs to Managing Directors of large companies.
Activities at the one day events range from a B2B exhibition to networking sessions to quality workshops – all designed to address the main themes of encouraging inter-trading and of providing useful information and assistance to support local businesses.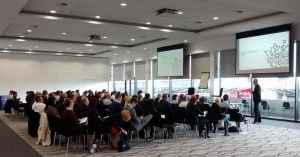 There are a number of ways in which businesses can use the events to promote their products and services but probably the best way to build profile is to take part as an exhibitor or sponsor.  A variety of packages are available to suit most budgets, with prices starting at £260+VAT for a 2m x 2m exhibition space. 
For those simply wanting to visit the event, there are lots of free sessions and activities taking place which can help them address a particular challenge or issue in their business. Lots of information and assistance is available from business support organisations, expert exhibitors, and from quality workshop sessions on topical business subjects.
Upcoming Business Fairs